Do you want to achieve goals?
Do you know how to do it?
Well, before the 2018 ends I would like to share this rare opportunity of being a book reviewer from an established author.
Recently I was offered with a book review opportunity from an author online. I grabbed the opportunity to read his book.
At first, I was hesitant to read it because of the title itself which contains the word "magic".
Its because I don't believe in such a thing.
In spite of it, I read his book and discovered that he is a real magician. I thought I must have been wrong in selecting the book to be reviewed. But as I read his book I discovered things that I myself can relate.
The Magic of Reading: May Your Grandest Dreams Appear was written by William Young.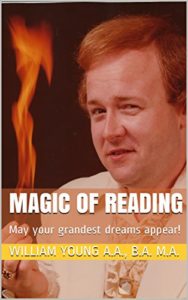 He is a real-life magician. He learned magic at the age of 8.
Basically, his book is a narrative of how he became successful in life as a professional magician. He owed it a lot to the books he read. No wonder why the book is titled "Magic of Reading."
He recommended five books in his book which served as an instrument in achieving his goals.
Two of the books mentioned was also my favorite book and also gave me some practical insights to achieve goals in life. And with his story, I was encouraged to read again the book because it contains some "magic".
Nope! I was just kidding.
The book contains powerful principles that can help you achieve goals. In fact, I also shared one of the principles in my own book Wise Decisions.
The author also shared some laws which to me is practical and worth to be applying in daily lives.
An example is the first law of real magic:
People would rather believe a lie told to them a thousand times than the truth told to them once!
Another principle was
When others have an affinity with you, they help you get what you want.
After reading the book, I immediately go back to my book collections like Think and Grow Rich by Napoleon Hill.
I read chapter 4 Autosuggestion.
Though I have the book stored in my laptop. I never read the entire book until Bill Young shared his testimony on how he used the book fully to his advantage and achieved his goals.
Interestingly, I also started to apply the principles plus my own routine of claiming success in life.
Lastly, the book wanted to tell the readers that if you read something, you have to apply it.
Knowledge without practice is nothing.
Again the books shared by Bill Young was the books he read and applied in his life. If you read any kind of books, you need to practice what you learn to get the most out of it.
To achieve goals is simply to practice what you learn.
That simple.
The Magic of Reading: May Your Grandest Dreams Appear is worth reading and inspiring.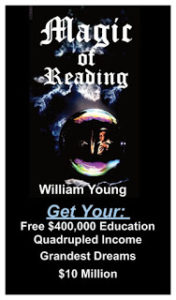 May your dreams come true.